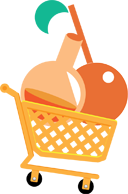 Q. How can I purchase and play the game?
You can purchase the game key through the website(Paypal or credit card) and play through the Steam client program after registering the key.
Q. Can I purchase the game from other countries?
You can purchase the game with an international credit card.
Q. Do I get a CD once I purchase the game?
Dandelion is downloadable. You can download the game and play once you purchase the game key. We do not provide game CDs
Q. The order form is messed up!

We support Internet Explore 8 or over. Just click on the compatibility view on your address bar.
Q. I transferred money but I do not see a download button on My Account.
If you transferred money to the bank, it takes time for us to check. We check bank transfers regulary during business hours. (Mon-Fri 09:00-18:00)
Q. How do I download the full version after purchasing the game?
Go to My account -> "Game Name" and you will see a Steam key that allows you to play the game on Steam.